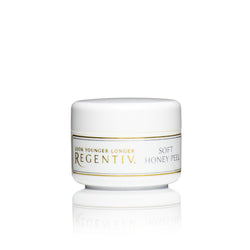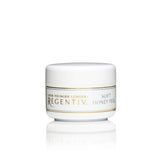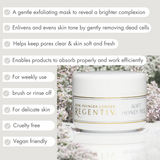 Soft Honey Peeling Mask 50ml
Our Soft Honey Peeling Mask is perfect for sensitive skin, helping you to pamper, rejuvenate and brighten your skin with natures finest HEATHER HONEY.
A soft, caring peel to enliven your complexion and even skin tone by gently exfoliating the superficial layers of your skin.
Discover the benefits of this rejuvenating treatment:
Removes dead skin cells and treats blocked pores
Softens lines, wrinkles and damaged areas of the skin
Reduces age spots and freckles
Suitable for use on the entire face, neck and décolleté; leaving you with silky soft and smooth skin, receptive to the restorative benefits of Regentiv's skincare range.
How to use
Simply apply the soft soufflé texture of the mask to a cleansed face, neck, décolleté and eye area. Allow to settle for 10 minutes and massage lightly with fingertips. Then support the skin with two fingers from one hand whilst gently brushing the mask off with the fingertips from the other hand. Pay particular attention to the expressive lines around the eyes and mouth. Then rinse away completely.
Apply as a twice weekly regime after cleansing, followed by the application of your Regentiv preparations for optimum results.
Ingredients
Parrafin, Stearic Acid, Triethanolamine, Althaea Officinalis, Anthemis Nobilis, Rosmarinus Officinalis, Sativa Officinalis, Tussilago Farfara, Sodium Benzoate, Sorbic Acid, Mel Cl 19140, Cl 14700, Parfum