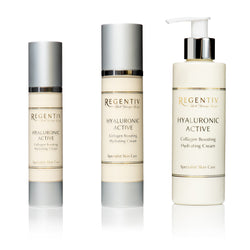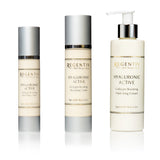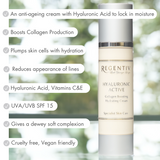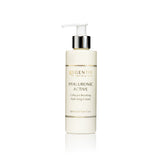 Hyaluronic Active, Collagen Boosting Hydrating Cream
The ultimate hero for dry, sensitive and menopausal skin our Hyaluronic Active Collagen Boosting Hydrating day cream defends and protects, creating your most hydrated glow.
Harnessing the hydrating power of HYALURONIC ACID, this silky light moisturising cream plumps and protects, reducing facial lines and provides a daily defence against the harmful effects of UV damage, stress and pollution upon the skin:
Locks in moisture and enables optimum hydration, preserving youthful and supple skin
Plumps skin cells, reducing the appearance of f

acial lines and wrinkl

es
Protects collagen biosynthesis
Incorporates SPF15, to protect from the ageing effects of UVA/UVB rays
Formulated for all skin types. Enhanced with RETINYL PALMITATE and VITAMINS C and E, to visibly reduce the signs of ageing and give rise to a brighter and more even skin tone. 
You may also be interested in High Potency Collagen Night Cream for the ultimate anti-ageing night time moisturiser.
How to use
This light exceptional cream absorbs beautifully creating an invisible, transparent visco-elastic surface film. Hydration levels are then at their optimum.

Apply morning and evening following a cleansing regime. Hyaluronic Active gives an excellent base for make up.
Ingredients
Cetearyl Alcohol, PED-20 Stearate, Sodium Laurel, Stearic Acid, Sodium Hyaluronate, Caprylic/Capric Triglyceride, Butyrospermum Parkii, Retinyl palmitate, Tocopherol Acetate, Octyl Diethyl PABA, Benzophenone-3, Octyl Methoxy Cinnamate, Aqua, Citrus Grandis, Ascorbic Acid, HEDTA, Sodium Hydroxide, Glycerin.