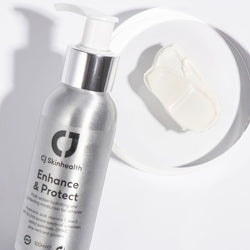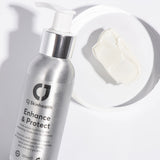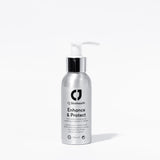 Enhance & Protect enhances the condition of your skin to help it look and feel fresh, healthy and rejuvenated, and protects your skin from the sun, windburn and free radicals that cause premature ageing.
It is a multi-action moisturiser that hydrates, boosts collagen, firms, detoxifies and aids cell turnover that visibly reduces lines, wrinkles, blemishes and uneven skin tone.
It's lightweight, absorbs quickly into your skin and is non greasy – perfect to use all day, every day. 

The key active ingredients are balanced for maximum efficacy and to give your skin what it wants, when it needs it. 
The key active ingredients include Hyaluronic acid, Vitamin E, Vitamin C, DMAE, Vitamin A, Aloe Vera, Glycerin and SPF30 broad spectrum sunscreen.
The SPF 30 Broad Spectrum sunscreen is non-comedogenic, which means it doesn't block your pores like some sunscreens do.
How to use
Apply daily in the morning and at night, and reapply before and after outside activities.
Ensure you cover your face, lips, ears and neck.
You can also use it on your body too, especially your arms, chest, back, hands and legs.
It can be used on skin injuries such as cuts, road rash and after surgery to help the skin heal and reduce scarring.
Ingredients 
Aqua, Octocylene, Ethylhexyl, Methoxycinnamate, Butyl Methoxydibenoylmethane, Stearic acid, Glycerin, Benzophenone, Caprylic/Capric Triglyceride, Sodium Ascorbyl Phosphate (Vitamin C), Isopropyl Myristate, Triethanolamine, Aloe Barbadensis Leaf Juice (Aloe Vera), Hydrolyzed Wheat Protein, Cetyl Alcohol, Phenoxyethanol, Retinyl Palmitate (Vitamin A palmitate), Tocopheryl Acetate (Vitamin E), Carbomer, Parfum, Dimethyl MEA (DMAE), Disodium EDTA, Ethylhexlglycerin, Dehydroacetic Acid, Sodium Hyaluronate (Hyaluronic Acid), Potassium Sorbate, Sodium Benzoate, Citric Acid, Benzyl Alcohol, Hexyl cinnamal, Amyl Cinnamal, Hydroxycitronellal, Butylphenyl, Methylproprional, Linalool, Geraniol.
Benefits
Hyaluronic Acid is a humectant, a hydrating molecule found naturally in the skin that diminishes with age and activities, and needs replenishing. It increases skin's moisture content and prevents water loss. It can hold 1,000 times its weight in water and aids cells to attract, retain and regulate water for hydrated, healthy skin.
Vitamin C is an antioxidant that brightens the skin, evens skin tone and stimulates elastin production.
Vitamin E is a powerful moisturising antioxidant that helps the skin's barrier and protects against free radical damage.
SPF 30 UVA broad spectrum non-comedogenic sunscreen to protect your skin from the sun's harmful UVB and UVA rays to prevent premature ageing.
Retinyl Palmitate derived from vitamin A, helps cell turnover and collagen production to reduce the appearance of lines and wrinkles, sun damage, acne, scars and dark spots, evening out skin tone and smoothing texture.
Aloe Vera soothes itchiness, irritation and helps the skin to heal.
DMAE firms and tightens the skin improving skin tone and elasticity.
Hydrolysed Wheat Protein for increased firmness, moisture retention leaving the skin soft and conditioned and is one of the most effective pore minimisers by moisturising and nourishing the skin.
Glycerin helps retain moisture in the skin and nourishes it.
For all skin types, cruelty free, animal ingredient free and paraben free.