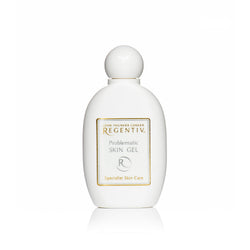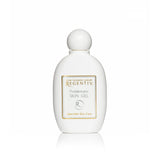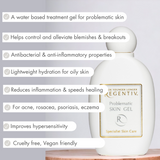 Problematic Skin Gel 100ml
Problematic Skin Gel is a concentrated antibacterial formula of natural mineral elements and essential oils to control and alleviate blemishes and breakouts.
Specifically formulated to provide long-term results for problem skin conditions:
Reduces excessive oil secretion
Dries out blemishes
Alleviates redness and inflammation
Improves hypersensitivity
The Problematic Skin Gel is recommended for the treatment of mild to acute acne, acne rosacea, eczema, dermatitis and psoriasis. 
You may also be interested in Problematic Skin Lotion as an instant skin soothing antibacterial, working together to give optimum results
How to use
Apply a thin layer to a thoroughly cleansed skin. Where pustules (spots) are tender and inflamed apply 2-3 times a day.

Eczema, Dermatitis, Psoriasis, Acne Rosacea - apply a thin layer to all areas of the face or body 2-4 times a day until the condition is under control. Thereafter use twice a day to aid the healing of damaged skin and maintain progress.
Ingredients
Aqua, Glycerin, Polysorbate 80, PEG-40 Hydrogenated Castor Oil, Sulfur, Glyceryl Acrylate/Acrylic Acid Copolymer, Citrus Medica Limonium (Lemon) Peel Oil, Phenoxyethanol, Ethylhexylglcerin, Limonene, Citral.