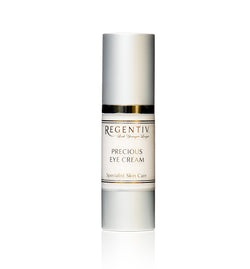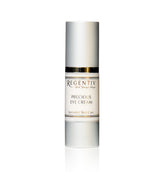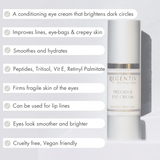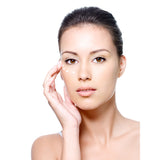 If you want to brighten, lift, smooth and hydrate to energise tired skin around the eyes then Precious Eye Cream has got you covered. 
This delicate yet nourishing eye cream is formulated to firm the fragile skin surrounding the eyes and lips to protect from the signs of premature ageing. It is also perfect underneath make-up, helping to prevent it settling into creases.
Boasting an advanced formula of:
PENTAPEPTIDES and RETINYL PALMITATE: to visibly reduce the appearance of fine lines, wrinkles and circles beneath the eyes
VITAMIN E: an antioxidant to defend against UV-ageing and pollutants, helping to maintain a youthful appearance
TRITISOL: with skin-firming and collagen-boosting properties, to smooth the appearance of puffy eye pouches, bags and crepey skin
SPF 10+: to provide daily anti-ageing protection against UV rays
Precious Eye Cream helps reduce dark circles, bags, lines and crepey skin leaving your eyes looking and feeling firmer, brighter and ready to face the day.
It is also suitable and very beneficial for the lip area. We recommend daily application, taking a minute to gently massage upwards across the lipline to the corners that naturally drop over time, gently lifting to help defy gravity and stimulate collagen production.
You might be interested to read our blog Treating and preventing lines around the eyes
How to use
Apply lightly and gently with fingertips to the delicate skin of the entire eye area. Always start the application from the temples sweeping under the eye to the inner eye area by the nose then over the top eyelid out to the temple.

Apply morning and evening after cleansing and Specialist Serum/Super Serum.
Ingredients
Aqua, Stearic Acid, Butyrospermum Parkii (Shea Butter) Fruit, Mysityl Stearate, Cetearyl Alcohol, Glycerin, Octyl Methoxycinnaate, Simmondsia Chinesis (Jojoba) Seed Oil, Triethanolamine, Benzophenone-3, Hydrolyzed Wheat Protein, Butyl Methoxydibenzoylmethane, Cetyl Alcohol, PEG-20 Stearate, Tocopherol, Retinyl Palmitate, Sodium Lauryl Sulfate, Cucumis Sativus (Cucumber) Fruit Extract, Propylene Glycol, Allantoin, Boric Acid, Phenoxyethanol, Ethylhexylglycerin.