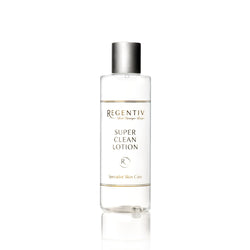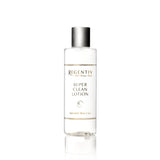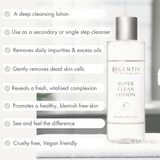 The treatment lotion that goes beyond cleansing- Super Clean Lotion is a deep cleansing lotion enriched with VITAMIN C and natural plant extracts, including SESAME SEED OIL, TEA TREE, ROSE AND CYPRESS, highly-regarded for their antioxidant and anti-inflammatory properties.
Whether you use Super Clean Lotion as a single step cleanser or as a secondary cleanse following make-up removal, one simple wipe over via cotton pads will leave your skin feeling and looking clean and vitalised, discover the feeling of true deep skin freshness.
Super Clean Lotion is a deep cleansing lotion that removes daily impurities, excess oil and dead skin cells.
Super Clean Lotion has a dual purpose, not only does this exquisite lotion give you deep skin freshness but it also helps to remove dead skin cells from your skin's surface for a healthy, blemish free complexion.
Formulated for all skin types and especially recommended for those with open pores, problematic, acne-prone and photo-aged skin.

How to use
Super Clean Lotion can be used in two ways - As a single step cleanser for those who wear little or no make-up to remove excess oils, daily impurities and environmental pollutants.
As a secondary deep cleanser to lift off the residue following your cleansing/make-up removal.  See Gentle Cleanser & Eye Make-up remover for gentle yet thorough make-up removal.
Ingredients
Aqua, Alcohol Denat, Glycerin, PED-60, Hydrogenated Castor Oil, Propylene Glycol, Sodium Ascorbic Phosphate, Sesamum Indicum (Sesame) Seed Oil, Melaleuca Alternifolia (Tea Tree) Leaf Oil, Cupressus Sempervirens (Cypress) Oil, Rosa Damescena (Rose) Flower Oil, Parfum, Methylchloroisothiazolinone, Bethylisothiazolinone, Citronellol.