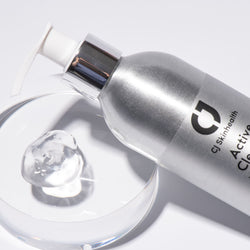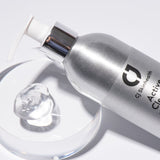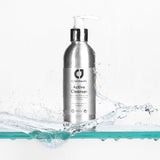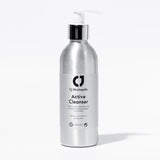 Active Cleanser deep cleanses your skin's pores, clarifies and gently exfoliates to leave your skin feeling clean, refreshed and invigorated. It lifts away ingrained impurities, surplus oils and dead skin cells.
Active Cleanser contains natural anti-oxidants and has both anti-inflammatory benefits and anti-bacterial qualities which help prevent blemishes, breakouts and redness.
Our unique formula also improves your skin's condition, leaving it looking fresher and healthier.
Whether you're using your Active Cleanser at home or on the go, we've designed it to be intentionally quick and easy to use – with or without water.
Cruelty-free, paraben-free, no animal derived ingredients and made in Britain.
200ml
Active ingredients benefits
Salycilic acid dissolves skin debris, unclogs pores, clears blackheads, is anti-inflammatory and is a gentle exfoliant.
Vitamin C is an anti-oxidant that helps brighten the skin and influences factors linked to break outs.
Glycerin acts as a cleanser, toner and moisturiser. It helps cure oily skin problems like pimples, mild acne and blackheads and removes clogged impurities whilst moisturising and nourishing the skin.
How to use
Use daily in the morning and at night, and as many times as needed after activities.
Massage into your skin and remove with water. It can be used without water, simply remove with a cotton pad.
Cleanse first thing in the morning to clear the skin of night time debris that has built up
At night we recommend double cleansing for all skin types. 
The first cleanse removes the build-up of pollutants from the day and make up and the second goes pore deep to clear impurities and spent surface cells.
You can use it on other parts of your body such as chest and back.
If you feel a breakout is coming or has arrived, then you can use active cleanse as a mask. Once you've double cleansed, simply apply it and leave on for 15 mins before removing with a cotton pad or water.
Ingredients
Aqua, Alcohol Denat., Glycerin, Polysorbate 20, Carbomer, Propylene Glycol, Phenoxyethanol, Sodium Hydroxide, Parfum, Salicylic Acid, Sodium Ascorbyl Phosphate (Vitamin C), Ethylhexylglycerin, Hexyl Cinnamal, Amyl Cinnamal, Hydroxycitronellal, Butylphenyl Methylpropional, Linalool.
 For all skin types, cruelty free, animal ingredient free and paraben free.