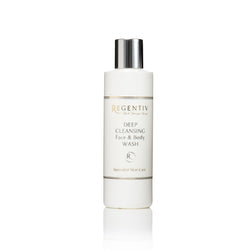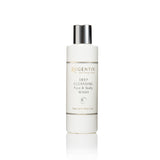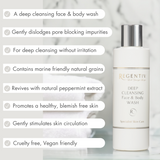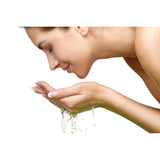 Deep Cleansing Face & Body Wash 200ml
For deep cleansing without irritation and glowing results from head to toe. Deep Cleansing Face & Body Wash refreshingly removes impurities and dislodges pore blocking impurities without disturbing your skins natural balance.
Use at the sink or in the shower to wash away toxins, smooth and purify.
Marine friendly, non toxic NATURAL GRAINS exfoliate and unblock congested pores, stimulate circulation and remove dead skin cells; environmentally-friendly and non-toxic  
Peppermint oil revives and invigorates tired and dull skin

An invigorating face and body wash to exfoliate, deep cleanse and smoothe the skin
How to use
Facial Cleansing- apply in a circular motion to wet skin. Ensure that the areas are thoroughly rinsed after a therapeutic lathering has been obtained.

For acne and to optimise effectiveness, use on dry skin paying particular attention to problem areas, i.e. spots, blocked pores, dry and coarse skin. Thorough rinsing off is essential, therefore ideally use when showering.

Use morning, evening and any time during the day when cleansing is necessary.
Ingredients
Aqua, Sodium Laureth Sulfate, Cocamide DEA, Cocamidopropyl Betaine, Cellulose Acetate, Glycerin, PEG-7 Glyceryl Cocoate, Carbomer, Mentha Piperita (Peppermint) Oil, Sodium Hydroxide, Disodium EDTA, Benzyl Alcohol, Methylchloroisothiazolinone, Methylisothiazolinone.