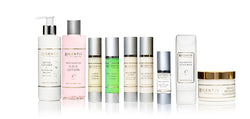 Skincare during Menopause
For some of us menopause can hit pretty hard, after all it is a huge life change that can be extremely overwhelming so it's no surprise that most of us will be aware of the subsequent changes to our skin.
Studies show that during the first 5 years of menopause our skin loses around 30% of its collagen and whilst we can't thicken the skin, we can prevent further thinning and improve its plumpness.
We have been helping women overcome these changes for many years and are here to help you work with your changing skin.
You might like to read our blog about how to combat the effects of Menopause on your skin
The preparations within this regime are a guide, if you feel that you would like personalised advice we can find the perfect regime for you, you will also benefit from the special regime discount on your items. 
Included preparations
Gentle Cleanser  (200ml) is perfect for a gentle and thorough cleanse with make-up removal. This beautiful creamy cleanser will not upset your skins ph balance and can be removed with cotton pads or water.
Regenerative AHA Lotion, (200ml) a specialist toning lotion that gently stimulates cell renewal.
Super Lifting Serum (50ml) firms and tones loose skin texture and stimulates collagen and elastin production.
Revitalising & Firming Primer (50ml) helps to replenish what is lost naturally whilst gently firming and restoring the skins glow.
Rejuvenating & Protecting Eye Gel (35ml) with natural eyebright helps the skin around the eyes recover tiredness, reduces puffiness and dark circles.
Hyaluronic Active Collagen Boosting Hydrating Cream (50ml) gives your skin the nourishment that it needs, perfect for a fragile skin.
High Potency Collagen Night Cream (50ml) allows your skin to recover whilst you sleep giving optimum hydration. Try applying a layer as a mask once a week to combat dryness and leave to absorb. Great for dry lips too.
Age Defying Hand Cream  (100ml) target dry, fragile skin and age spots with added protection SPF20
Neck & Decollete Rejuvenation Cream (150ml) targets the fragile skin of the neck, décolleté and upper arms. Toning, firming and conditioning.