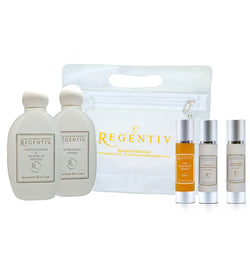 Regentiv Discovery Set for Daily Care
With growing levels of air pollution the effects on your skin can be a big concern for city dwellers. This great set contains a simple routine with pollution combatting ingredients to help fight the effects and protect against skin damage.
Helps alleviate the effects of daily environmental stress upon your skin.
A handy selection of 100ml & 35ml sizes within our complimentary, aircraft compliant toiletry bag. Perfect sizes to try the products and great for lightweight travelling and gym bags.

Set Includes - Gentle Cleanser 100ml, Super Clean Lotion 100ml, The Specialist Serum 35ml, Oxygenating Moisture Protection Day Cream SPF 15+ 35ml, Oxygenating Night Cream 35ml.
How to use
An ideal regime is to cleanse the skin with the Gentle Cleanser, then wipe over with Super Clean followed by The Specialist Serum and in the daytime Oxygenating Moisture Protection, at night time follow on from the Specialist Serum with the Oxygenating Night Cream.