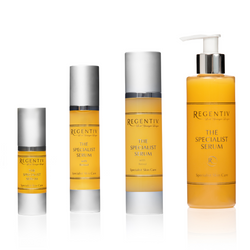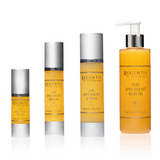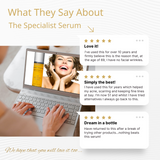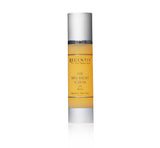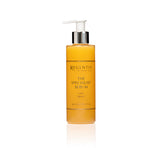 The Specialist Serum (with Retinol)
The Specialist Serum has a unique combination of ingredients to give you the ultimate results without irritation, caring for your skin in the best possible way by nurturing it daily.
· Targets fine lines, wrinkles, blemishes, hyperpigmentation, skin ageing.
· Helps repair UV damage, open pores, acne and acne scarring.
· Especially recommended for the treatment of skin damage and is perfect for before and after cosmetic surgery e.g. face lifts, eye bag removal, laser, dermabrasion or accidental trauma such as bruising that can occur more frequently following menopause.
Developed with our Harley Street Skin Specialist and in consultation with plastic surgeons, combining an advanced formula of:
· Retinyl palmitate clinically proven to reduce facial lines and wrinkles. When using retinol, continuity is key, we formulated The Specialist Serum using 03% Retinyl palmitate so that it can be used each day and every day. When applied, your skins natural enzymes convert Retinyl palmitate to retinol, the kinder nature of this process is far easier for your skin to tolerate and therefore will care for your skin in the best possible way by nurturing it for the future.
· Pure Vitamin E and C: antioxidant properties to prevent the signs of ageing
· Natural Concentrated Aloe Vera: a potent skin healer and moisturiser
· SPF 6-8: to provide daily protection against the sun's UV rays
Suitable for all skin types and all ages, including a sensitive skin. The Specialist Serum is a favourite worldwide…… no skin should be without it.
Use over your entire facial area, including the neck. The Specialist Serum contains the recommended level of Retinyl palmitate for effective results without irritation.
How to use
Apply to a thoroughly cleansed skin paying particular attention to the eye area up to your lashes, lines surrounding the mouth and from the base of the neck. Apply twice daily for optimum results. 
Allow your Serum to absorb before applying moisturiser, we recommend
Hyaluronic Active
Collagen Boosting Hydrating Day Cream and
High Potency Collagen Night Cream
Ingredients
Aqua, Glycerin, Retinyl Palmitate 0.3%, Octyl Dimethyl PABA, Tocopherol Acetate, Aloe Barbadensis Leaf Juice, Phenoxyethanol, Ethylhexylglycerin, Hydrogenated Castor Oil, Citric Acid, Potassium Sorbet, Sodium Benzoate, Acrylates/C10-30 Alkyl Acrylate Crosspolymer, Benzophenone-3, Sodium Hydroxide, Cl 19140, Cl 14700, Cl 42090